StarShip shipping software | Version 13.1.0
QuickBooks Enterprise integration, ship via rules functionality, Rating Web Service and direct support for ABF Freight.
QuickBooks Enterprise – new options for ShipGear for QuickBooks customers

Multi-carrier, multi-mode support
Line item integration to further automate international and LTL shipments
Save on freight spend with USPS support, regional carriers and third party insurance
EDI automation – print GS1-128 labels and integrate directly with TrueCommerce Transaction Manager
Ship Via Rules
Automatically make carrier/service selection based on conditions such as fastest or cheapest
Manually rate shop using user-defined scenarios that return a sub-set of rates from which an informed decision can be made
FedEx – StarShip is now certified on the latest FedEx web services technology. Enhancements include:

1421C for Dangerous Goods shipments with FedEx Express, Priority Alert Plus
Hold at Location – search locations near the destination ZIP
Rating Web Service
– Integrate StarShip's powerful multi-carrier rating functionality directly into your business systems such as ERP order entry.
Validate the shipping address
View a complete list of carriers, services, time-in-transit and cost from one place
Quickly see published, negotiated and applied freight charges
Automatically calculate the applied freight charge using freight rules
ABF Freight
Live access to negotiated rates
Tender shipments electronically
Track shipments
Sage DacEasy 2014
– testing is complete for this version of Sage DacEasy.
StarShip shipping software | Version 13.0.3
New branded email functionality, integrated packing list + shipping label, expanded EDI & Warehouse Management integration.
Integrated Packing List + Shipping Label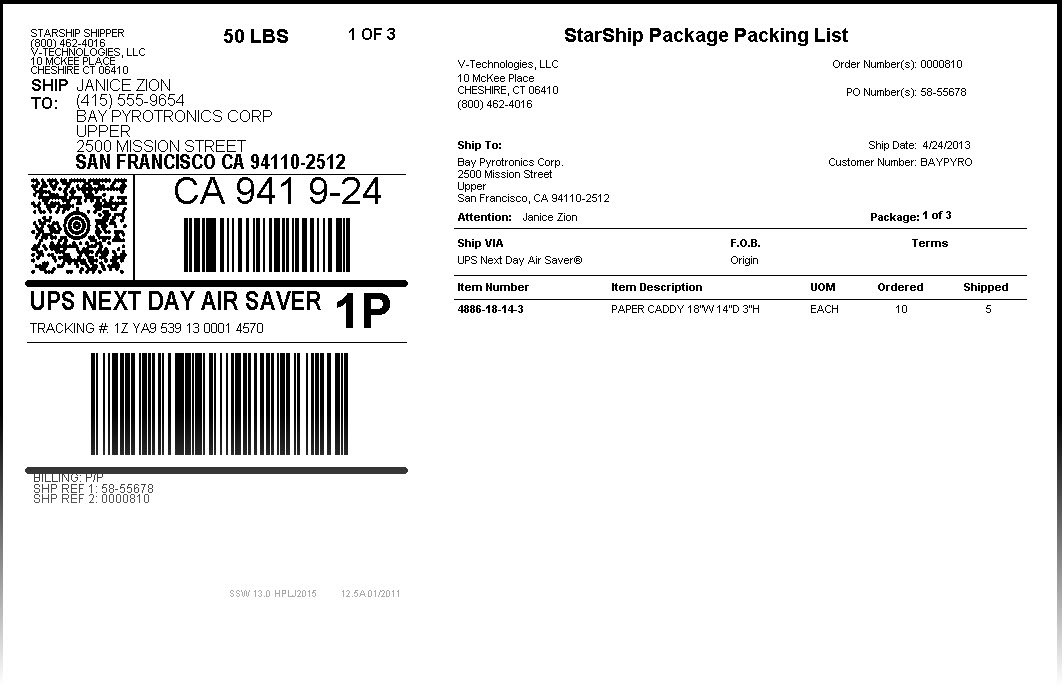 TrueCommerce EDI interface – streamline the EDI process

Generate GS1-128 labels through StarShip
Push shipping detail from StarShip to TrueCommerce Transaction Manager
Con-way and Old Dominion
– optional carrier interfaces now available!
Live access to negotiated rates
Tender shipments electronically
Branded Shipment Notifications
– take control of your outbound email notifications!
Personalize the message with logos and hyperlinks
Include item-level detail
Attach shipping documents such as the BOL
Send emails as you ship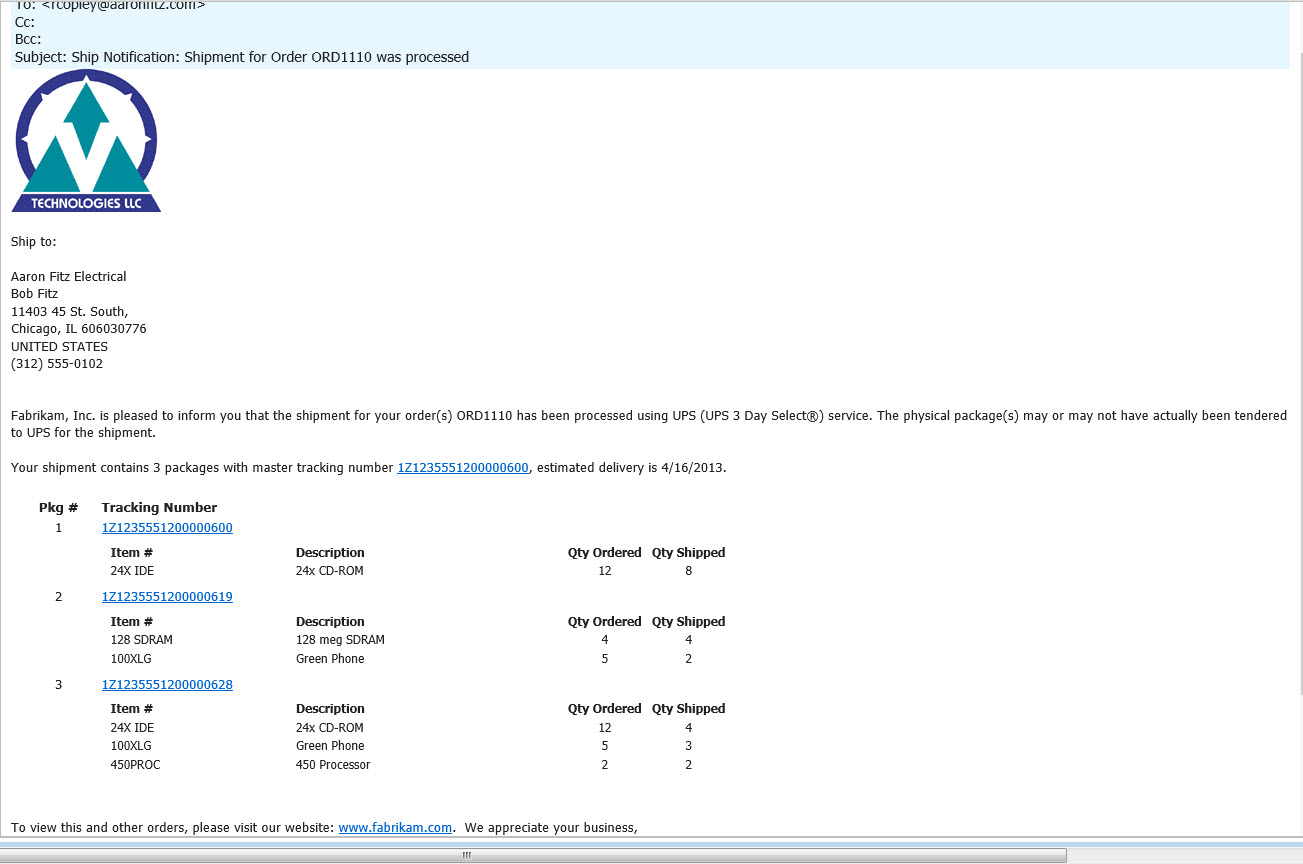 Microsoft Dynamics GP 2013
GP Advanced module highlights integration with PanatrackerGP to automate the pick, pack & ship process.
Interface Extender – optional module to expand functionality for a distributed interface

Expand field lists used for input
Customize update logic
Sage 500 2013
– testing is complete for this version of Sage 500.
StarShip shipping software | Version 13.0.2
2013 USPS rate/service changes, Sage 100 ERP 2013 & more!
Endicia – we continue to add enhancements to support USPS regulatory changes and new features being offered by Endicia.

The Parcel Post mail service is being renamed to Standard Post. This newly renamed service will be available at retail ONLY and includes electronic tracking at no additional cost. While this service will continue to be available to USPS Approved Shippers, commercial mailers should use the Parcel Select, barcoded, non-presorted mailing option in place of Standard Post (previously called Parcel Post).
The First-Class Mail International Parcel service is being renamed to First-Class Package International Service (FCPIS). First-Class Mail International Letters, Postcards, and Flats services remain unchanged.
Electronic Delivery Confirmation will now be available free-of-charge for international packages to Canada. This service provides mailers with the date and time that their package was delivered. Service will be available for the following mail categories: First-Class Package International Service (formerly First-Class Mail International) parcels, Priority Mail International Flat Rate Envelopes, and Small Flat Rate Boxes.
Critical Mail will be available with a new signature option. This signature service will be added to the Critical Mail service at a more attractive rate than adding Signature Confirmation as an extra service.
The label layouts of the Integrated Customs Forms PS-2976 and PS-2976A have been modified per USPS guidelines.
Expanded the Cost Center field to support alpha and numeric characters.
Sage 100 ERP 2013 (v5) BOI interface
– Testing is complete for this version of Sage 100. Form code printing as a result of ship/process is currently not supported with the 2013 release.
ACS Multi-Bin – enhanced the BOI (direct) interface to support this popular enhancement. StarShip will now recognize items that have been allocated via ACS Multi-Bin and retrieve associated lot/serial distribution and quantity.
StarShip shipping software | Version 13.0.0
2013 Carrier rate/service changes & more!
UPS 2013 rate & service changes >>More

UPS WorldEase® – ship packages to multiple recipients within a country or the European Union (EU) as one shipment that clears customs as a single transaction.
FedEx
The current module will support rate & service changes effective Jan. 7th. We are actively working on enhancing the FedEx interface to support new features such as the 1421-C (Dangerous Goods).
FedEx 2013 rate & service changes >>More
DHL
DHL 2013 rate & service changes
Spee-Dee
Spee-Dee 2013 rate & service changes
Ship Screen
– search existing shipments and switch between interfaces from the Source Document section.